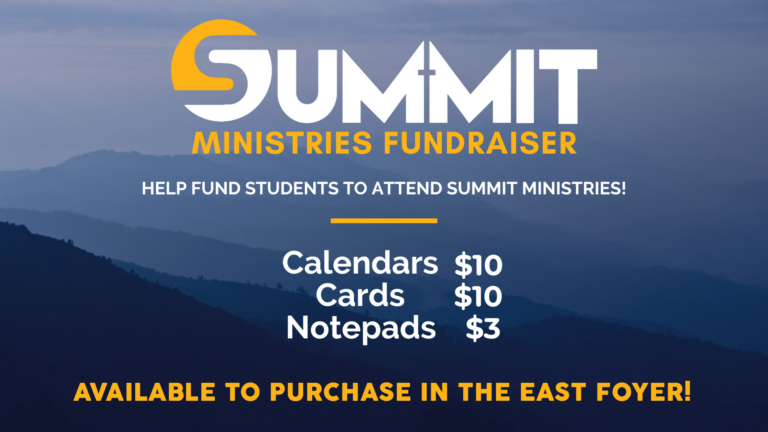 Summit Ministries scholarship fund
east foyer
office hours and sundays
2024 Calendars, Christmas Cards and Notepads are available to purchase from the East Foyer Kiosk to help support the Faithbridge Scholarship Fund for our youth who would like to attend Summit Ministries in Colorado. More details are located on the sign above the kiosk. Cards and Calendars are $10.00, Notepads are $3.00.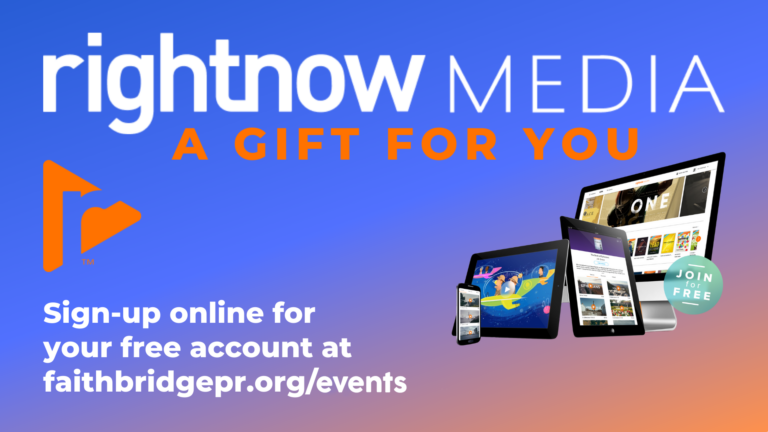 free gift for you
sign up below
RightNow Media is a great resource for Faith Groups, Bible Studies and Home Studies for children to adult. Sign up below and we will send you a link to set up your free account.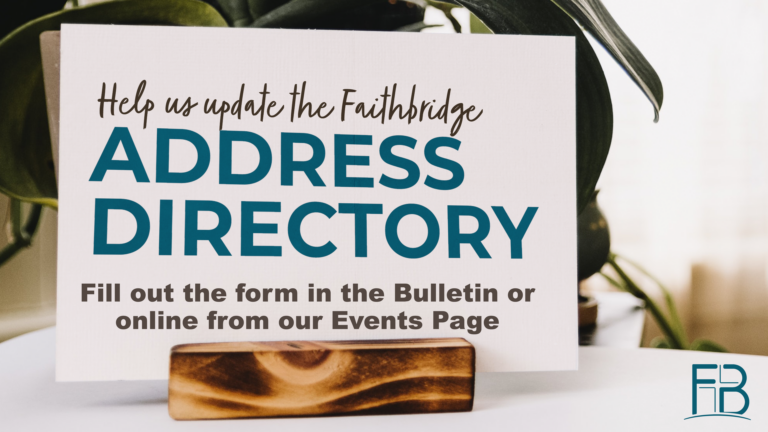 faithbridge address directory
updates needed!
fill out form below
It's time to update the Faithbridge Address Directory! Click on the link below to update your information (new baby? new address? new phone?) or to be added to our directory. We welcome all regular, occasional and seasonal attenders to be a part of this helpful publication!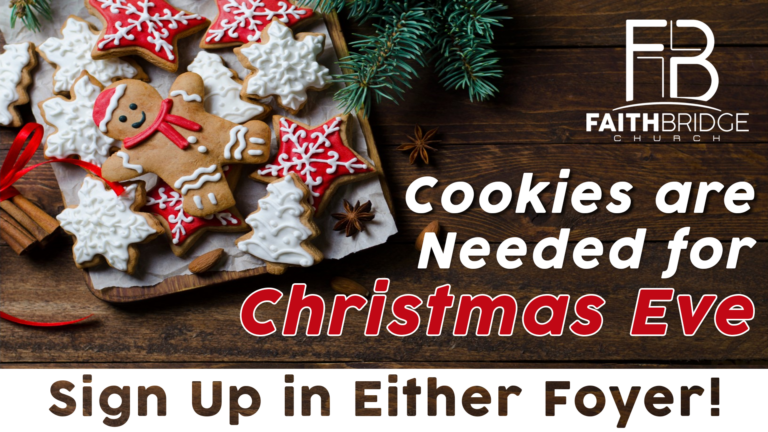 sign up in either foyer
serving at 4:00 Pm on 12/24
Cookies are needed to serve at the Christmas Eve Service on December 24th. Sign up in Either Foyer to bring two dozen per family. They can be dropped off on Thursday, December 21st from 8:30-5:00 pm or brought to the 9:30 am service on the 24th. Thank you!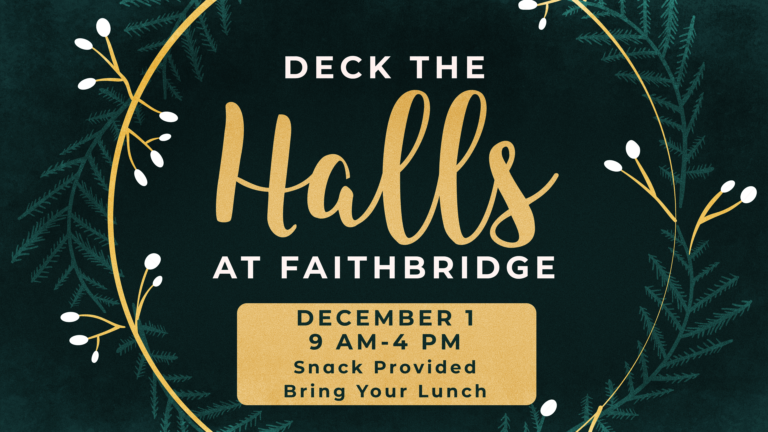 friday, december 1
campus
9:00 am – 4 pm
Volunteers are needed to help decorate the church on Friday, December 1st. Coffee and Snacks will be provided, but bring your own lunch. Come for all day or as much as you can! Let Paige Rockensock or the office know if you can help out.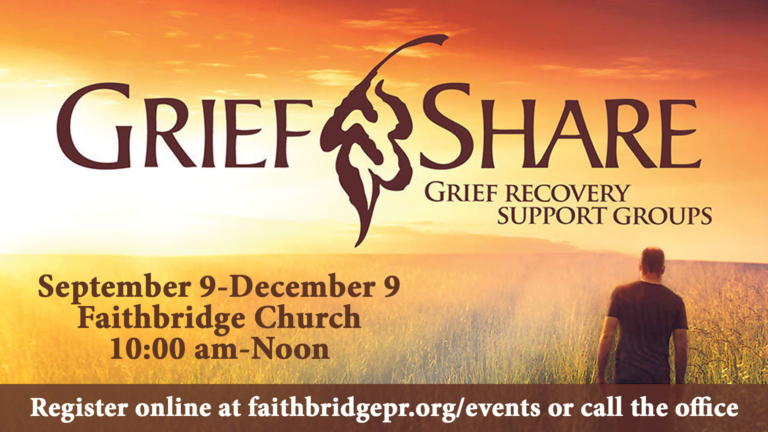 griefshare (13-week session)
saturdays (Sept 9-Dec 9)
faithbridge church | conference Room
enter door s1
10 aM to noon
GriefShare (13 week session) started on September 9th, but you can still join. Register to attend below. Cost is $20.00 for first time attenders.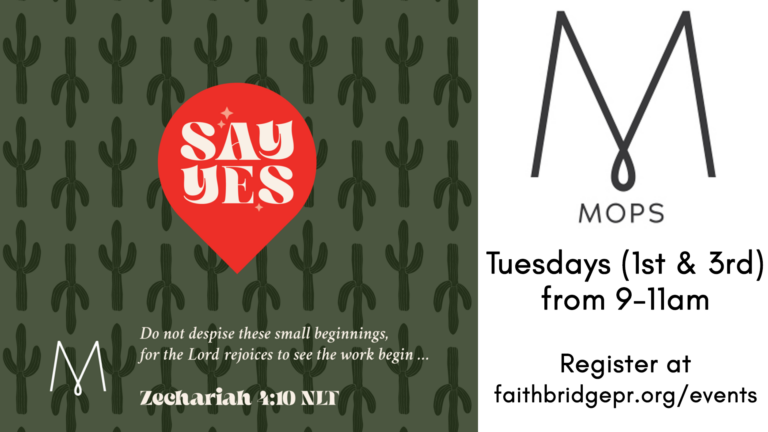 tuesdays (1st & 3rd) ~ NExt Meeting 12/5
faithbridge fellowship hall
9:00 am to 11:00 am
Join MOPS and MOMSnext for encouraging fellowship and mentorship, prayer and devotion, brunch and coffee, and so much more. MOPS meets the 1st and 3rd Tuesday of the month at Faithbridge. Childcare Available.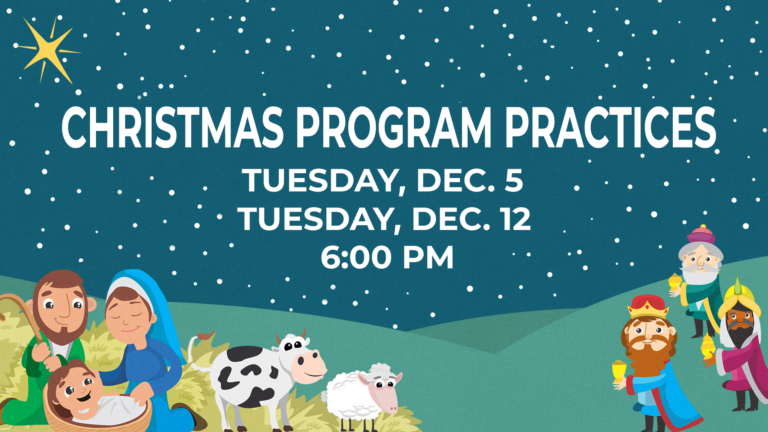 christmas program practice
tuesday, december 5 & 12
sanctuary (enter door N2)
6:00 pm
Kids participating in the Christmas Program have practice on December 5th and 12th at 6:00 pm both nights. The program will be a part of the 10:45 am service on Sunday, December 17th.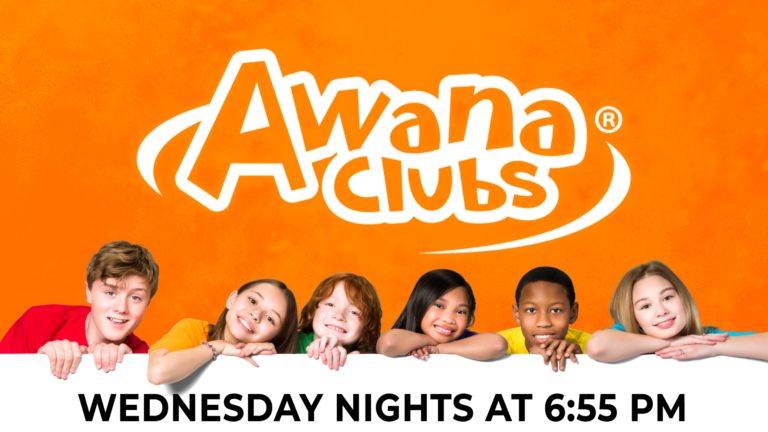 WEDNESDAYs 
ENTER DOORS N2 OR W1
6:55-8:30 PM
AWANA for kids ages 3 (2 years before entering Kindergarten) through 6th grade meets on Wednesday nights. Register online below (you will need to finish the registration process with Bethany at church) or with the AWANA Secretary, Bethany, in the West Foyer. See the calendar below for theme nights and other important dates.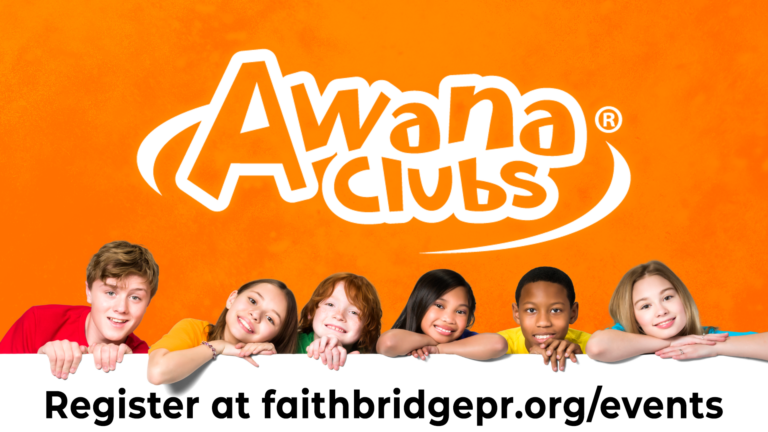 Ages 3 – 6th grade
register here!
AWANA started September 13th, but kids ages 3 through 6th grade are welcome to join anytime! Register below and then come on Wednesday night by 6:45 pm to finish the registration process with the AWANA Secretary, Bethany.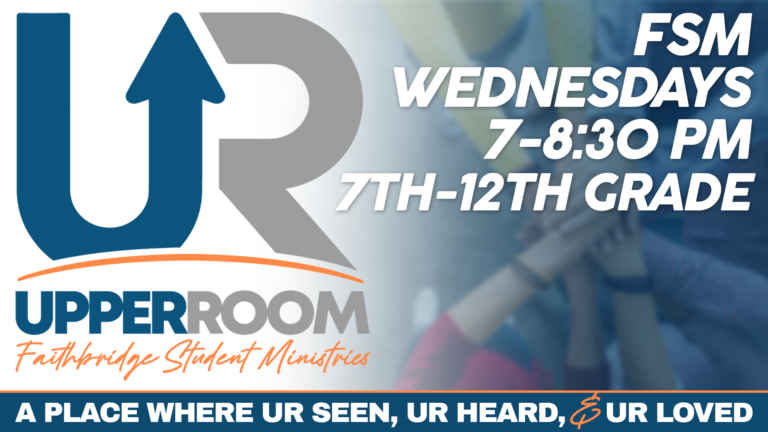 wednesdays
upper room
7:00 pm
FSM for 7th-12th graders meets on Wednesday nights at 7:00 pm for Worship, Discussion and Snacks. Come join the fun!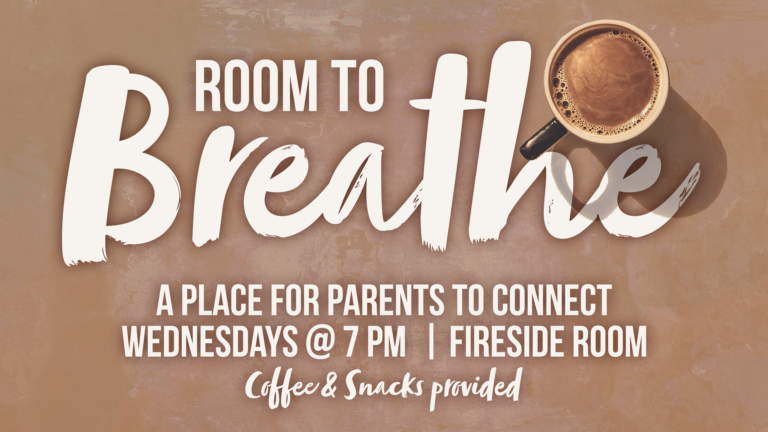 wednesdays
fireside room
7:00 pm
Room to Breathe is for parents on Wednesday nights at 7:00 pm during AWANA and FSM. Come join the fellowship and connect with other parents!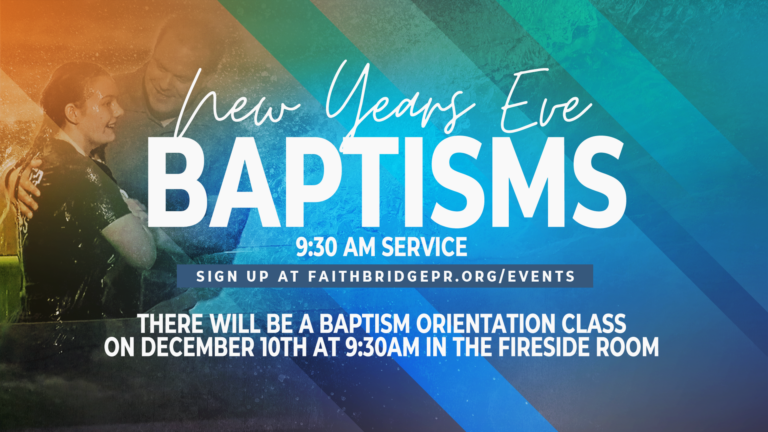 sunday, december 31
9:30 am
(orientation class december 10 at 9:30 am)
We will be having a baptism service at 9:30 am on New Years Eve. Sign up below or let the church office know if you would like to be baptized. There will be an orientation class on December 10th at 9:30 am in the Fireside Room for those interested in participating on New Years Eve.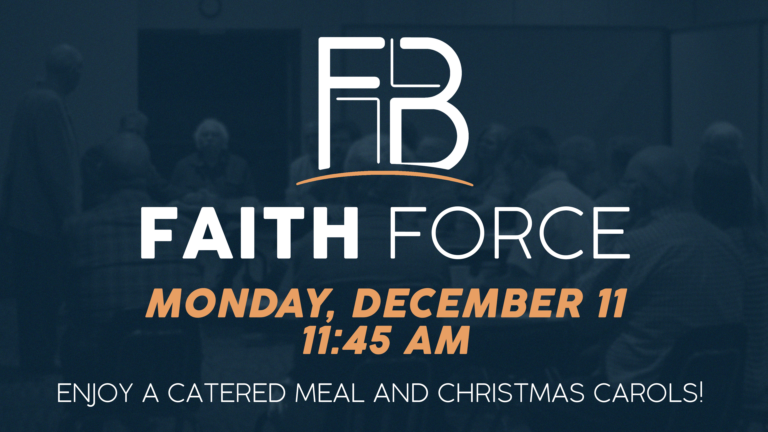 monday, december 11
fellowship hall
11:45 am
Faith Force Seniors will meet on December 11th for a catered meal at 11:45 am. This special Christmas get together will include music from the Homeschool Choir, Christmas Carols and a time of sharing. Invite a friend!
sunday, december 17
sanctuary
10:45 am service
The Tiny Tots Christmas Program and Youth Choir will be a part of the 10:45 am service on Sunday, December 17th.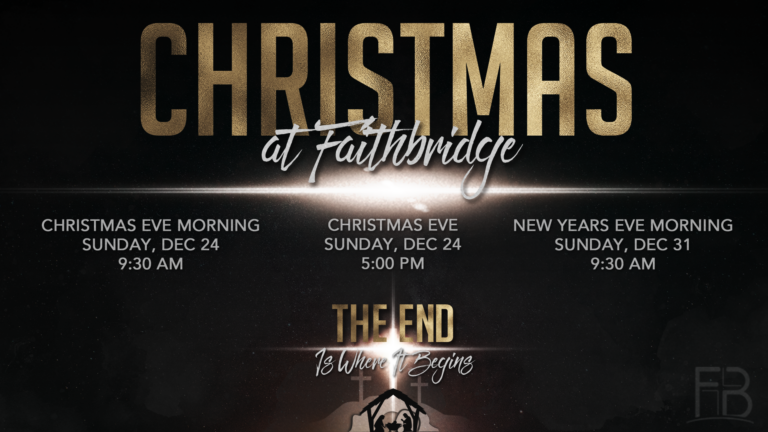 "the end is where it begins"
sunday, december 24 & 31
9:30 am sunday services, 5:00 PM christmas eve
Join us this Christmas as we celebrate Jesus' birth! We will have one worship service at 9:30 am on Christmas Eve morning. Our Christmas Eve Service will begin at 5:00 pm with cookies, coffee and cider served staring at 4:00 pm. On New Year's Eve morning, we will have one service, including baptisms, at 9:30 am, with a brunch to follow the service. If you have any questions or would like to get connected at faithbridge, please don't hesitate to contact us! We'd love to connect with you! reach us AT 218.732.1404 OR OFFICE@FAITHBRIDGEPR.ORG.
Copyright © 2021 Faithbridge Church