starts memorial weekend | may 29

8:15 am worship service
9:00 am fellowship time
10:00 am worship service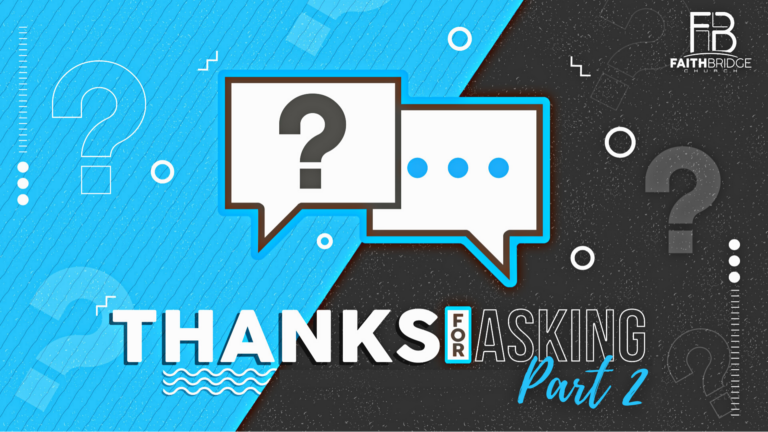 Do you have questions about God, the Bible or life in general? For our Summer Sermon Series, "Thanks for Asking", we are looking for you to submit your questions. No topic is off-limits, no question is wrong or dumb. Please ask and let's look at what the Word of God has to say! We will do our best to cover as many questions as we can!
Pick up a bottle from one of the welcome desks at church, bring them home, fill them with money and bring back to church by June 5 in support of the Pregnancy Resource Center!
Monday, june 6
Meet at heartland park
6:30 PM
Ladies! Join us for a bike ride to Dorset (weather permitting)! We will meet at Heartland Park and ride to Dorset for a sweet treat, a little fellowship and maybe even a short devo and then ride our bikes back to Heartland Park.
june 10-12
lake ozawindib, itasca park
Needing a time of rejuvenation for your marriage? This is the perfect weekend getaway that you can enjoy with other couples that will encourage you and equip you in your marriage. This is a casual and relaxed weekend with time spent learning from other couples, but also time for just you and your spouse. We'd love to have you join us!
MN adult & teen challenge choir
Join us for an encouraging and uplifting time of stories and worship with the men from the MN Adult & Teen Challenge Choir!
STARTING WEDNESDAY, JUNE 15
9:30 am & 6:30 pm
lOCATIONS TO BE DETERMINED
Ladies! You are invited to join us as we read through the book "Ten Words to Live By" by Jen Wilkin. Sign-up in one of the foyers at church if you are interested or contact the Church Office at (218) 732-1404. Please purchase your own book from Amazon, Lifeway or at Christianbook.com.
2nd Street stage volunteers
STARTING thursday, JUNE 16
4:00-8:00 PM
Would you like an opportunity to volunteer in our local community?  We are committed to helping with set-up, assisting concert-goers and helping with clean up for 2nd Street Stage every Thursday this summer. We had a blast volunteering last year and would love to have more volunteers join in! Contact the Church Office if interested at (218) 732-1404 or sign-up in one of the foyers at Church!
father's day, june 19
both services
Sign-up below if you are interested in participating in Child Dedication on Father's Day!
sunday-Thursday
August 7-11
5:30-8:00 pm
G'day Mate! Are you ready for a trip of a lifetime as we zoom off to Australia for VBS 2022? Click on the "Register Here" button for more information and to register your kids for VBS or register yourself as a volunteer! We'd love to have you join us on this trip of a lifetime!
hUBBARD COUNTY FAIRGROUNDS
FRIDAY, AUGUST 26
Doors open at 6:00 pm
concert at 7:00 PM
Join us for this free concert coming up in August! Watch for opportunities to volunteer!
date and time to be determined
Are you interested in getting baptized? If you have ever thought about getting baptized and would like to participate in a baptism at a local lake this summer, please let us know!
awana volunteer registration
sign-up to help for fall 2022! If you have any questions or would like to get connected at faithbridge, please don't hesitate to contact us! We'd love to connect with you! reach us AT 218.732.1404 OR OFFICE@FAITHBRIDGEPR.ORG.
Copyright © 2021 Faithbridge Church